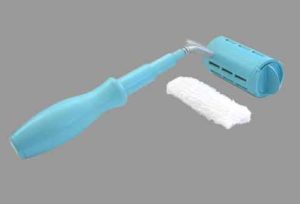 EZ LOTION APPLICATOR by Zoya
Frustrated with not being able to reach those hard to reach places and dealing with incomplete results?
With the EZ Lotion Applicator, you can get to those areas with ease.
The applicator has a soft, washable cotton sleeve that applies most any lotion smoothly and evenly. Pour in the lotion, slip on the sleeve and you're ready to apply. Simply adjust the telescoping arm, to reach all areas of your body.
Great for seniors or people with limited mobility
Use it to apply skin softener, body lotion, suntan lotion and medicinal lotions
Reservoir and sleeve help ensure even coating
Telescoping arm can be collapsed to slip in purse, drawer or tote bag
Soft cotton sleeve is washable and reusable
Coming Soon