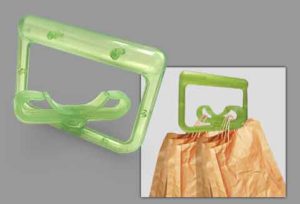 SHOPPING PAL® by Zoya
Get all of your grocery or shopping bags inside with one trip only!
The Shopping Pal® is perfectly designed to help you comfortably carry up to 10 shopping bags in one hand. The ergonomic design is sturdy enough to hold several bags and stores conveniently in your purse or glove box.
Ergonomic design
Sturdy enough to hold several bags
Eliminate finger strain and stress on hands
Bag handles lock into place, keeping them from rolling about in the car while driving
Stores conveniently in purse or glove box
Save multiple trips to the car
Great for people who live in dorms or high rises.