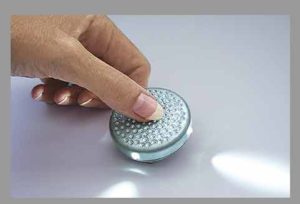 PURSE PAL by Zoya
Nothing is more annoying than fumbling around in your purse for keys or trying to find something in the dark!
Let the Purse Pal shed some light on the subject!
The Purse Pal clips easily to the inside or outside edge of your purse and has three strong LED "Mity-Lites' that illuminate any area so you can find your items.
Easily locate items in your purse
Illuminates with 3 bright LED "Mity-Lites"
Read menus in dark restaurants
Find your glasses, pens and wallet
Automatic timer shuts off after 2 minutes to save battery life
Durable on the outside
Fashionable appearance of a mirror or powder compact
Coming Soon