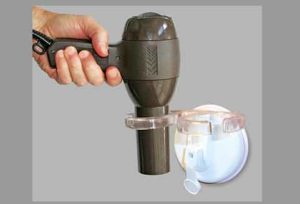 HANGER HELPER by Zoya
Clear the clutter with a push of a lever!
Want to be able to hang something on the wall, but don't want to drill holes? The Hanger Helper is a quick and easy solution to clearing clutter in all types of tight spaces.
It eliminates the frustration of anchors, hooks and installation with a portable, tight wall grip. The patented design has a specially coated suction cup that can hold up to 15 lbs.!
Portable - just lift the lever when done and move to a new place
No damage to paint on the walls or infrastructure
Great for bathroom, garage, workshops and kitchen
Useful for RVs and boats where space is at a minimum
Can be used on smooth painted surfaces, tile and glass
Coming Soon