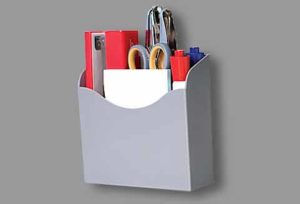 Easy Box® by Zoya
Why lose precious space to clutter and mess?
The repositionable Easy Box® is the best at making the most of tight space and sticks to any smooth surface. Just try it!
The perfect storage solution:
Car - for tissues or other convenience items
Office - attach to desk or wall for office supplies
Workshop/Garage - for small tools and pencils
Lockers - pens, pencils, post-its
Bathroom - toothbrushes, make-up brushes and toiletries
Kitchen - small utensils
Desk/Offices
Manage the mess!
Stands on its own.
Positionable with Velcro® (included)
Or you can place it permanently